Kuwait: Joylene Gonsalves, Glen Vas march into finals of GVOM-5
Pics by: Prem Crasto, Joy Roshan D'Silva & Alban D'Souza
Kuwait, Sep 30: In a professionally organized Kuwait segment of Gulf Voice of Mangalore Season 5, Joyline Gonsalves from Mount Rosary, Kalyanpur/ Holy Rosary, Kundapur Parish and Glen Vas from Bondel, Mangalore, have entered into the finals in the female and male category respectively. The winners will contest for the coveted title of Gulf Voice of Mangalore Season 5 which will be held in Bahrain on November 11th this year.
After the stupendous success of the previous four seasons of Gulf Voice of Mangalore (GVOM), the Season-5 semifinals was organized by Kuwait's #1 Mangalorean Association – Kuwait Canara Welfare Association (KCWA) on Friday 30th September 2016 at the American International School.
The event began with a Bhajan Alaap which was sung by Season 1 winner Vinay Lewis after which the compere Anil Fernandes gave a brief introduction to GVOM's history.  The curtains opened with live music by "Muzik Collective" led by Kiran Gonsalves.  In a very rare moment, GVOM title winners of the last four seasons – Vinay Lewis, Gladys Lorena, Orson D'souza and Morvine Quadras appeared on the stage and sang the GVOM theme song, following which, the president of KCWA Albert Praveen Menezes gave him welcome speech.  The special souvenir was then released by KCWA's spiritual director Fr. Noel D'Almeida and all the committee members.
The judges for the competition Alwyn Noronha, Edith D'souza & Ajith Peter D'souza were invited upon the dais and were introduced to all present in the audience. The judging criterion was announced by GVOM coordinator Steeven Misquith. The competitions were then conducted starting with the female category.
The musicians John Kiran Gonsalves (Lead Keyboard), Alwyn Fernandes (Lead Guitar), Joy Fernandes (Rhythm Guitar), Jackson D'souza (Bass Guitar), Ronald Rodrigues(Acoustic Drums), Ethan Fernandes (Keyboard), Joyston D'souza (Congo & percussions), Prashantha Pais (Violin) and Austin Salins (Trumpet) enthralled the audience with their live music and was loved by one and all.
The sponsors, judges and singers were felicitated by Fr. Noel D'Almeida and Fr. Blany Pinto during the event. Chief guest Konkani Sahitya Academi president Roy Castelino and the GVOM Founders Lawrence Pinto & Louis Rodrigues were felicitated with a shawl, fruit basket, flowers and memento.  GVOM Founder organizers Rita Rodrigues and Wilson Saldanha were felicitated with flower bouquets. Rev. Fr. Noel and Roy Castelino gave their message to the audience and Roy gave an important information that Konkani is among 22 national languages spoken by 41 communities and written in 5 scripts.
Among the many entertainment acts held during the event, the song "Konknni Uronk Zai" was sung by Alwyn Noronha & Edith D'souza.   Audience thoroughly enjoyed various song and dance performances on Manke, Kinkule, Disco Disco, Lag Ja Gale, Mog Tuzo Kitlo Ashello, Vengenth Gevun, Pavs go Baye and Kanthaar Karun.  Rib tickling jokes were enacted by Lional Mascarenhas, Lucy Aranha, Rajesh Fernandes, Sathish Saldanha,& Zaneta Aranha.
Amongst a houseful crowd the winners for the season 5 Kuwait finalists were announced. Joyline Gonsalves and Glen Vas emerged as the winners, which was welcomed with a huge round of applause and cheer from the audience. The winners were presented with flowers, decorated with sashes and trophies by Roy Castelino.
The audiences were glued to their seat with nonstop entertainment of music, dance and jokes. CAMCO Global Events managed the entire program with excellent sound, lightings and backdrop.  Music by Muzik Collective under leadership of Kiran Gonsalves was excellent and was appreciated by one and all. The addition of popular music composer and guitarist Alwyn Fernandes Dubai gave a special flavor to the show.
The proceedings of the program will be sent to Nirmala- Home for destitute, Alangar.  A presentation on the same was showed to the audience.  The program was well compered by Anil Fernandes, Linette D'souza. Deepak Andrade & Freya Saldanha handled the felicitation part.  Vote of thanks was proposed by Steeven Misquith.
Multi Media Presentation was done by Rajesh Aranha, Reema D'Souza & Ansel Gonsalves.  Program Coordinator Steevan Misquith and core committee members Albert Praveen Menezes, Anil Fernandes, John Kiran Gonsalves, Linette D'souza along with the whole KCWA team worked tirelessly over the last few months and needless to say, their hardwork paid off!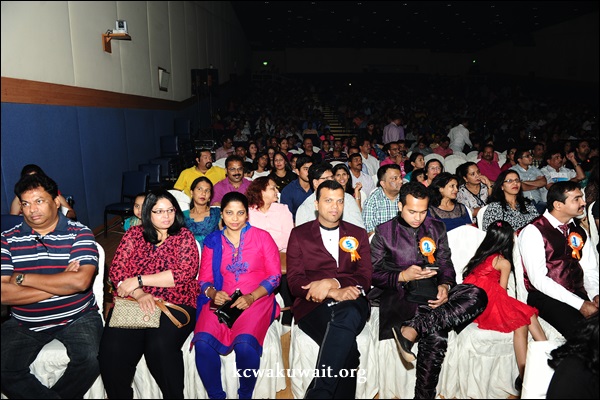 For more photos….. Click here