KCWA First Holy Communion Party – 13th May 2011
Venue : Al-Farha Hall, Salmiya
In the true sense of 'Communion', 5 members of KCWA came together as a family to share the joy of their children's First Holy Communion together and celebrated this important event with KCWA at Al-Farha Hall, Salmiya on Friday 13th May, 2011. This was the 5th First Holy Communion community celebration by KCWA.
The celebration commenced at 7.00 pm with the compere, Sunitha D'Silva welcoming the guests mentioning the importance of this Holy Sacrament and coming together as a family and sharing happiness. The communicants – Rebecca D'Souza, Lavita Cutinha, Leiton Pinto, Astrel Menezes and Jocelyn Veigas walked in a procession with a lighted candle signifying the new light in their lives. They then gave thanks to the Lord with a prayer and hymn in Konkani followed by a general blessing by the guests and proceeded to cut their cake together. The communicants presented an action song choreographed by Rinna D'souza.
President Stephen Machado shared KCWA's role in this initiative. Fr.Blany Pinto, parish priest of St. Therese Parish in Salmiya proposed the toast and congratulated and blessed the First Holy Communion recipients. Jossie Pinto, on behalf of the parents reciprocated his appreciation to KCWA. Guest priest Fr. Albert Lewis presented mementos as a token of remembrance to the children on behalf of KCWA.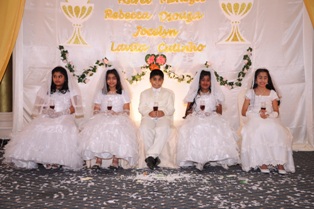 Dr. Manohar Prabhu held the interest through games for children & adults alongwith spot prizes. All the guests enjoyed the scintillating music of popular DJ Spinners (Sudhi Fronteiro) and many grooved to the DJ's dance numbers. Lancy, Kiran, Jovita & Joyline joined in with live singing. Snacks, refreshments and delicious dinner were served by M&M Confectionery & Restaurant. The celebration concluded at 11:00 pm by singing the Laudate. Memories of this wonderful event were captured by Prem and Vinod. The amazing backdrop by Godwin added another dimension to the poster-perfect pictures. Praveen Menezes coordinated the event.