Kuwait Canara Welfare Association (KCWA) as part of United Karnataka Associations of Kuwait, joined Akbar Travels Kuwait and gained the successful operation of its first ever charter flight from Kuwait to Mangalore on 17th June 2020 with 165 passengers, giving distressed Kannadigas the opportunity to travel back home. It is really a dream come true for the distressed Kannadigas from Coastal Karnataka. Mr. Stevan Rego, Immediate Past President as Member of Managing Committee, represented KCWA for UKAK and rendered his utmost service not only for KCWA Members, also for all needy Mangaloreans and lifted KCWA service banner to the new heights. We also acknowledge and appreciate the hard work of KCWA Members Mr. Vijaya Wilson Albuquerque (2072) & Mr. Lional Rayan Mascarenhas (1991) along with others.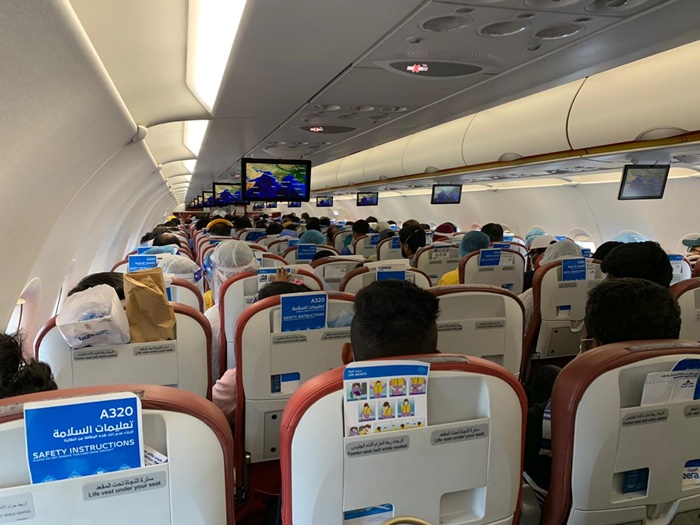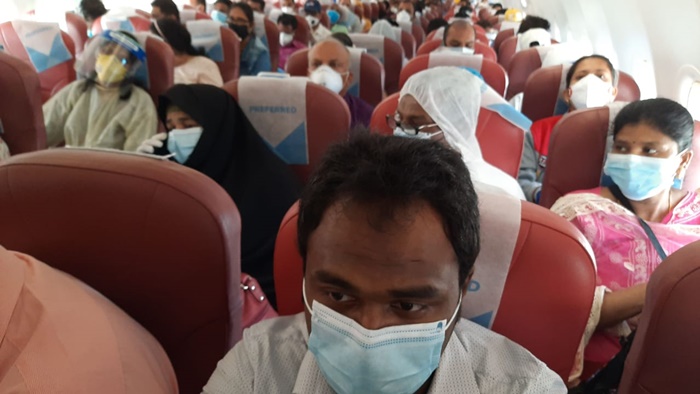 The Jazeera Airways Charter Flight took off around 10:40 A.M from Kuwait International Airport – Terminal 5 and landed at Mangalore International Airport at 5:05pm.
All the association leaders and Akbar Travels Team wished all passengers a safe and pleasant journey back home. Being Kannadigas, we felt proud when the flight took off around 10:40 a.m. Obviously, it was a great moment to see our beloved Kannadiga passenger's smile of trust, hope, love & gratitude. This mission would not have possible without the support of Karnataka State Government, Government of India, Government of the State of Kuwait, Indian Embassy in Kuwait, DC office in Mangalore, entire Team of Jazeera Airways and all the Associations who collaborated and worked hard, hand in hand to make this operation successful.
From the time Indian Government announced Vande Bharath Mission, All Karnataka Associations came together under one banner United Karnataka Associations of Kuwait. UKAK made all possible efforts to reach important contacts in Central and State Governments and forwarded the request to arrange airlift for distressed people of Karnataka. Most of these needy Kannadigas had serious medical issues, which needed urgent attention, some had Job Loss issue and were out of pocket to survive for food rent and so on for the last 3-4 months, also few among them were pregnant women. In this long wait to go back to their home country, few have lost their lives, and few were hospitalized. UKAK eye witnessed all hardships of our own Kannadigas. And thus, unitedly worked tirelessly with the hope to make our people fly back home safely. UKAK now committed to continue the efforts to ease the difficulties of Kannadigas.
UKAK expressed sincere gratitude and special Thanks to Regional Manager of Akbar Travels Mr. Shaikh Abdulla & Team, Mr. Ramesh S. Bhandary (TKK) for taking the lead, Mr. Stevan Rego (KCWA), Mr. Rajesh Vittal (Kannada Koota), Mr. Guruprasad Hegde (BSK) And Senior Management of Jazeera Airways, Mrs. Sindhu Roopesh – DC Mangalore, Dr. Yatish Ullal from DC office & Mr. Manish from Quarantine Department Mangalore for their outstanding timely support.
UKAK also thanked Mr. S. M. Azar (KKMA), Mr. Krishna Poojari (Billava Sanga), Mr. Abdul Nasser Khan (KMWA), Mr. Jaffar Sadik (IMA), Mr. Raj Bhandary (BPP), Mr. Rajesh Mendon (MAK), Dr. Surendra Nayak (GSB) for their direct or indirect support.