KCWA held Kala Sanz 2015: A fun filled evening for a Cause
Pics by: Joyston D'Souza & Joy Roshan D'Silva
Kuwait Canara Welfare Association (KCWA) held Kala Sanz-2015, a non-stop entertainment program with over 100 artists on Friday 23 January 2015 at Kamil Al Rayes Auditorium, at American International School, Maidan Hawally, Kuwait from 5pm. The amount generated from this event shall go in support of building a new school to provide basic training and rehabilitation for Children with physical and mental disabilities at VIMUKTI (Care, Support and Rehabilitation of the Differently Abled Children) Dayalbagh Ashram, Ujire, Belthangady, Karnataka.
5 hours non-stop entertainment by Golden Voice of Konkani fame Rony D' Cunha and other singers, foot tapping dances by individuals & various dance groups, rib-tickling jokes & comedy skit by famous comedians from Kuwait were the main attractions of the event. Khain Properties Udupi, Al-Habshi Establishment, Alger Mathias were the Gold Sponsors and Al-Rifae Group, Lawrence D'Souza-Ceasers Group of Restaurants, ISSNAD, HEMPEL Paints were the Silver Sponsors of the event.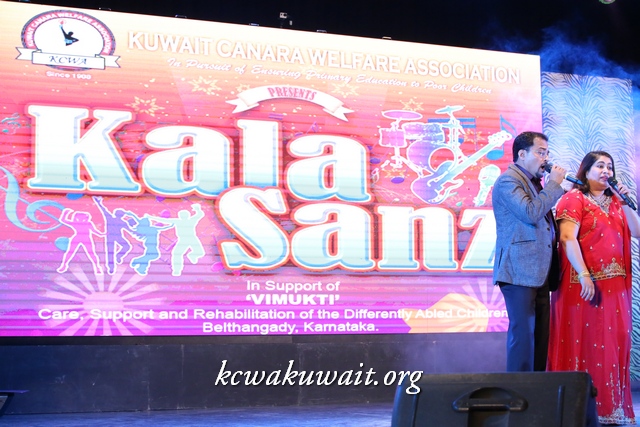 The show began with a Bhajan-Aalap by Orson D'Souza followed by an introduction by MC Deepak Andrade. The entertainment part started with the song 'Mangllurgar' by Lancy Rodrigues & group. Melodious Konkani hit numbers by Kavitha Colaco, Marcus D' Almeida, Lancy Rodrigues, Joyline Gonsalves, Rony D'Cunha & Jasmine D'Cunha, Nirmala Machado, Rilson D'souza, Gladys Lorena, Roshan Olivera, Lavina Prafulla, Orson D' Souza, Raina D' Mello, Sunitha D' Silva, Shaila Lobo, Hywel Pinto sailed the audience into ocean of music. The music was provided by Kiran Gonsalves.
A documentary on 'VIMUKTI' – (Care, Support and Rehabilitation of the Differently Abled Children) Dayalbagh Ashram, Ujire, Belthangady, Karnataka was shown. KCWA President Anil Fernandes welcomed the gathering. He explained the motto and intentions of KCWA and whole heartedly thanked all those who patronized this event in supporting the less fortunate children of our society.
Rib-tickling jokes 'Sezari', 'Kazaracho Ladoo', 'Shilabalike', 'Mad House' were presented by UMK team led by Agnel D' Souza which took the audience into the world of laughter. Foot tapping dances by Joel & team, Salmiya Friends, Jennifer D' Souza, Jovas XLNC, Jhankar Dance Academy mesmerized the crowd. The five hour long show came to an end with the comedy skit by Lancy Rodrigues & troupe.
The event was ably compered by Deepak Andrade. Reema D' Souza managed the announcements. Joyston D' Souza of Impressions Photography was the official photographer while Alban D' Souza of Blue Ray Video and his team did the videography. Illuminations provided the Sound and Lighting. Steevan Misquith managed the multimedia projections on the LED screen. The entire event was the brainchild of KCWA Cultural Secretary Kiran Gonsalves and supported by Lancy Rodrigues along with KCWA Managing Committee Members. KCWA thanks all the Sponsors, Well-wishers and artists who have supported in making this event a huge success.
 Related News:  Kala Sanz 2015